How does search engine optimization work
Introduction:
For many web users, Google is the primary way to find what they're looking for online. For a small business owner or marketer, this means that optimizing for Google and understanding how it works is one of the most valuable skills you can have in 2021.
Search engine optimization (SEO) increases your chances of showing up in search results on major search engines and getting traffic to your website from search engines. SEO helps sites rank higher in organic listings when someone searches on a keyword that matches your site's content.
People who are new to SEO are often overwhelmed by its complexities, but this article is a great introduction to the subject and provides some tips for beginners. While this article covers basic SEO concepts, it can also serve as a guide for more advanced SEO techniques.
An important part of effective search engine optimization is understanding how your content ranks and why. By knowing how search engines work, you can optimize your pages so they rank higher in Google (and other search engines).
The most important thing a marketer must do to succeed in search engine optimization is to understand the basics of how search engines work and how they index and
rank
web pages.
Unlike traditional media, Internet content has the ability to rise or fall based on how relevant it is to what a web user wants. This makes it easier for online businesses to get found in searches, but it also means that SEO is a crucial component of every effective online marketing campaign.
A basic understanding of ranking factors can help you create more effective content. This in turn will improve your website's SEO and help you get more traffic as a result.
For example, let's say you're writing an article on the U.S. president and are including his name in the title and text of your article. If someone searches for "Barack Obama," are they likely to find your site? Probably not, because there are millions of other sites that discuss Barack Obama in depth. To rank high in search engines, your article needs to be unique and helpful, but it's still a good idea to include the president's name in your title tag, meta description and bulleted list of benefits.
If you have an e-commerce site, this is even more critical because the content on your landing pages serves as a sales pitch for your products or services. Even if you provide a good product or service, if your potential customers don't find you in search engine results, then they won't buy from you.
If they find you and your website is not up to date or the website looks shabby and and the content is poorly written, they will simply click away from your blog or website because they do not find it useful. The condition of your website also tell your site's visitor that you are not to be trusted.
SEO isn't something that you can enter into simply by doing a few one-time tasks and expect to win the SEO game. It takes more than simply performing some simple task. SEO takes time, and if one thinks that they can achieve their goals with search engine over night, then I want them to know that they are simply deceiving themselves. Like any other marketing strategy, it takes time and dedication. And when you've got limited resources such as money and time, you can't expect to have stellar results overnight.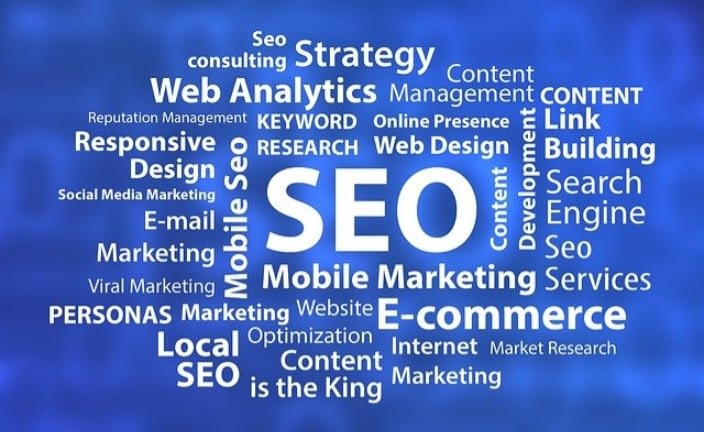 You'll need to integrate SEO into your existing SEO plan because it is an ongoing strategy and each step of the process requires a little bit of work on your part. It will take time, patience and commitment to get good results because that is the only way around it.
I've got links to a couple of sites that offer free training for beginners on search engine optimization. Two of the more popular sites are Search Engine Land  and Certified Knowledge . You can learn how to build a basic plan, how search engines rank different sites and other key information there. It is such a wonderful website to visit and learn more about search engine optimization.
As I bring this post to a close, I'll want us to look at some few things that can help you to understand SEO strategies and also some few things that you can do yourself to help you accomplish some few basic things to help you to increase your SEO ranking for your blog or website.
The SEO Strategy that you need to use are the following 8 steps.
Step #1: Create a List of Keywords:
This is how your visitors can find you on the internet. It is the keywords that identifies your websites among the millions of websites that are on the internet right not.
Not having a keyword assigned to your website is like a house that has no address and is located somewhere in the middle of a forest somewhere. I am sure you will agree with me about that.
Step #2: Analyze Google's First Page.
Another strategy that you can do is to make sure that you are looking at and analyzing Google's first page of those who are listed there whose niche is similar to yours. This will help you to have an idea what they are doing to get to page one of google. You can also invest in certain ranking spy software like ahref that can help you to spy on your competitors and learn from them, this way you can use the information that you find there to improve your own website's SEO.
Step #3: Create Something Different or Better.
After you have found out some information about your competitor's blog which is in page one of Google, all that you have to do is to improve on your website's SEO. This way, you'll create a better page and rank yours over theirs and start getting traffic into your websites for massive organic traffic and revenue.
Step #4: Add a Hook.
You must make sure that you ad a hook into your content. With that said, in 2021 to improve your website, requires you to add backlinks to your site. Backlinking is still a very important ranking factor for search engine optimization. The more backlinks you have linking to your website the more traffic you can get. In your content, make sure that you provide information that is so useful and helpful to your visitors such as statistical facts from an authority site as such information helps them to have a factual idea of what is going on in the subject of interest.
Step #5: Optimize For On-Page SEO.
Whiles external ranking factors like backlinking are still essential to help you get ranked high in Google, it is important that you did online SEO optimization as well. The internal SEO is where you look at on page facts such as keyword in the title, the use of h2 and h3 in your articles. Writing lengthy articles of at leas 1,000 words or more and using keyword rich words in your alt image and caption and so forth.
Step #6: Optimize For Search Intent.
You must make sure that you use buyer keywords in your blog so that you'll stand the chance of attracting people who are serious about what you are featuring on your website to come to you to patronize it. Buyer keywords helps make your visitor's intentions very clear to you and that is how you'll get more organic search engine traffic because your keywords are targeting those who are serious about doing business with you. For example, if you are selling dog food on your website, you must use keywords like "buy dog food" on your website to show buyer intent.
Step #7: Make Your Content Look Awesome.
You must make sure that your website looks very nice and matured with great content that suggest to your website's visitors that you mean business. You must not use a template that targets younger people on your website when you are actually targeting adult stuff. You content must be easy to read and the message must flow flawlessly.
Step #8: Build Links to Your Page.
Linking to your website is very important because it helps your website to rank higher in the SERPS. All that you have to do is to increase your linking to other sites. It must be noted that it is not any kind of site that you must link to. You must make sure that the site is of high quality and it carries authority of its own then when Good find out that you are linking to high authority sites then it will deem your website as important as well and rank your site high.
I want you in on some few do it yourself SEO tips that you can perform on your site to help you to rank high and succeed with your website on the internet.
Why should you try and to some SEO chores by yourself?
The answer is that Do It Yourself SEO will help you save money as hiring a professional SEO expert to do your SEO for you is quite expensive.
The following are the things that you must do:
a) You must improve your Title Tags.
b) You must master keyword research.
Which is what webmasters and web owners do to help rank their websites and bring them more traffic.
c) You must make sure that you understand what your competition is doing.
You should never be in the dark about what they do so that you'll know how to improve your own website to capture Googles' free organic traffic to your website.
d) Do keyword mapping on your website for SEO purposes.
e) Make sure that your website or blog is optimized for Search Engine Optimization.
f) Make sure that you create more content especially if you are a blogger as opposed to being just a website owner. If you write just five contents each month on your blog you know that is not enough. You must put in the work and write at least, ten to 15 blogs a month or more. You must understand that on the Internet, many things we do here is a number's game.
g) You must make sure to build your social media network. You must have followers on Facebook, YouTube, Instagram and many other places on the internet.
Conclusion:
As an internet marketer you know that SEO is very important to your website. By that I am not saying that you must over optimize your website. I am not saying that you must worry about your website all the time so that you are not able to sleep. You must be balanced in your mind about how to take care of your blog's SEO needs and also and still have the time to live your life and enjoy it.
If you enter your name and email address, you can get the post you are reading emailed to you in a pdf format.
Enter your Name
Enter your Email Address